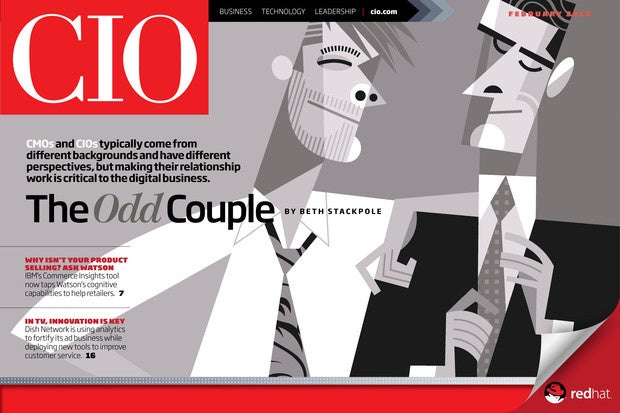 In this issue:
Meet tech's new odd couple
CMOs and CIOs typically come from different backgrounds and have different perspectives, but making their relationship work is critical to the digital business.
Why isn't your product selling? Ask Watson
IBM's Commerce Insights tool now taps Watson's cognitive capabilities to help retailers.
Welcome to infrastructure as code
Sometimes referred to as programmable infrastructure, IAC lets you rapidly and safely deploy virtual environments.
Innovation is key for Dish Network in the evolving TV market
Dish Network is using analytics to fortify its ad business and deploying new tools to boost customer service.
Smart machines are easier to fix
ServiceMax is integrating IoT data with its field service management platform so technicians have the information they need to fix equipment fast — and keep customers happy.
Ford shifts to bimodal IT
The automaker is adopting emerging technologies, such as robots that attend meetings, while maintaining core competencies for manufacturing and other operations. It's bimodal IT, Ford-style.
Healthcare giant has a need for speed
Channeling deep experience in leading change programs, Stuart McGuigan is reshaping Johnson & Johnson's digital approach to healthcare.