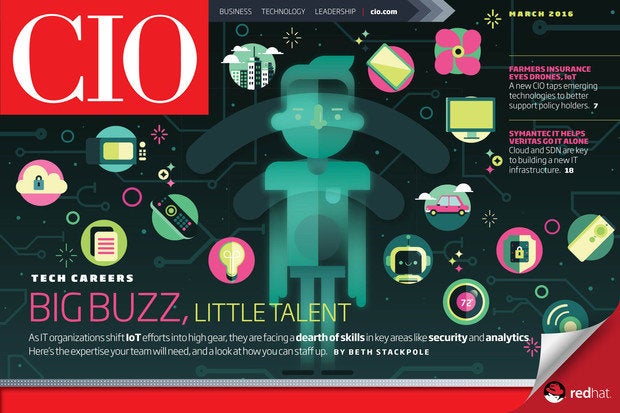 In this issue:
Internet of Things: Big buzz, little talent
As IT organizations shift IoT efforts into high gear, they're facing a dearth of talent in key areas like security and analytics. Here are the skills you'll need, and a look at how you can staff up.
Farmers Insurance eyes drones, IoT
A new CIO is revamping internal IT and tapping emerging technologies to better support policy holders.
UCaaS can help you make the most of UC
Unified communications is gaining ground in the enterprise, but many businesses are just scratching the surface of what's possible with UC tools. UCaaS can change that.
Symantec IT helps Veritas go it alone
CIO Sheila Jordan's team used cloud and SDN technologies to build an IT infrastructure for the newly independent storage business in less than 12 months.
CIOs must be ready to deal with changes in APIs
As the strategic value of APIs continues to grow, so do the challenges associated updating or retiring them.
Powering drug discovery with information
Data analysis and visualization can be used to improve health and safety, says the leader of PerkinElmer's informatics operation.
IT plays a critical role in digital transformation
But first it must transform itself, writes IDC's Meredith Whalen.
The evolution of a marketing executive
What does it take to prepare for, land and succeed in the hottest roles in IT? This month, we look at how Kristine Spence climbed the digital marketing ladder.