eBook
CIO Digital Magazine, September 2016
Cover story: Big data on campus. Facing federal and state pressure to raise retention and graduation rates, dozens of colleges and universities are developing analytics tools to help students make better decisions about everything from courses to social activities.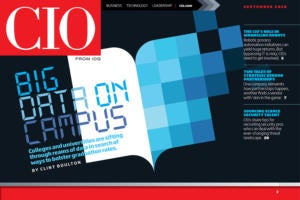 Also in this issue:
The CIO's role in wrangling robots
Robotic process automation initiatives can yield huge returns. But bypassing IT can create even bigger risks, which is why CIOs need to get more involved in efforts to program robotic systems.
Two tales of strategic vendor partnerships
One company reinvents how partnerships happen, another finds a vendor with 'skin in the game.'
Accelerating networking with SD-WAN
Auto body repair chain Service King is phasing out its MPLS system for SD-WAN appliances.
Sourcing scarce security talent
Tips for recruiting security pros who can deal with the ever-changing threat landscape.
How to manage 'technical debt'
Understanding this framework for managing critical, unfunded IT investments is key to business innovation and transformation.